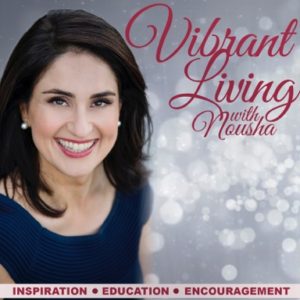 Join us today as Nousha Behbahanian, Vibrant Lifestyle Mentor supports you in gaining more awareness and understanding of your Divine Essence.
Understanding your divine essence is critical to creating a vibrant and fulfilling life for many years to come!
If you want to learn about the two energies that will support your fulfillment and vibrancy in the long term, a possible missing link to true long term fulfillment and an inside out approach to your long term fulfilment then tune in now!
Honouring and expanding your divine essence is critical for designing, creating and sustaining a life you love. The truth is there are two energies that we don't learn about in school that are important to nourish, protect and renew for our long term fulfillment.
In this episode Nousha invites you to expand yourself and your divine essence as you design your vibrant, fulfilling life in just 4 Easy Steps.
In addition, Nousha recommends three books that can be found on her website www.noushabehbahanian.com under the resources section:
The One Minute Goddess by Jean-Pierre LeBlanc and Michele Hall
The Way of the Superior Man by David Deida
Dear Lover by David Deida
This series is designed to inspire, educate and encourage you or someone you know to live a more vibrant, fulfilling life.
Nousha is excited to be on this journey with you. The truth is you can design and create, a life you love regardless of your circumstances. If you or anyone you know is struggling with how to live a more vibrant, fulfilling life connect them to our podcast, it's easy. Simply subscribe to our podcast and this way each episode will appear in your show feed ready for you to enjoy and share with your friends, family and community.
Follow Nousha on social media @noushaslegacy on Instagram and Nousha Behbahanian on Facebook.  You are invited to join Our Vibrant Living Community on Facebook.  You can also learn more by visiting: www.noushabehbahanian.com.