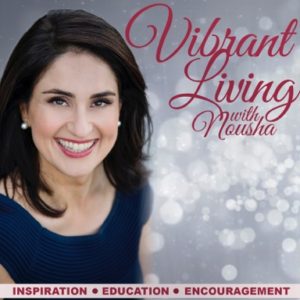 Join us today as Nousha Behbahanian, Vibrant Lifestyle Mentor shares how you can get more done, faster with less physical work and bring about over 2,000 hours of action in just 17 seconds! Tune in now to learn more!
The truth is we are human beings and not human doings. There is a way to experience more ease and love for life and the process of realizing our dreams without burning out.
Nousha actually used this technique when she was building her lifestyle business and it works! Of course, hustle is important as Gary Vaynerchuk (a.k.a. Gary Vee) shares #hustle is important to realize our goals and dreams when backed by our passion. However, sometimes we can go too far and it can lead to burnout. As Arianna Huffington shares in her book Thrive: The Third Metric to Redefining Success and Creating a Life of Well-Being, that it is critical that we honour our well being as one of the three pillars of living a good life, a life we love.
Learn what two masters, Dr. Wayne Dyer and Esther Hicks share about manifestation which also happens to be a technique that Tony Robbins uses every morning.
Success leaves clues and here are a handful of masters living lives they love, on their own terms who share a similar message.
Nousha adds her perspective on the conversation and invites you to leverage 68 seconds to Do Less, Accomplish More and Feel Vibrant and Fullfilled!
Nousha recommends some books in this episode, you can find them on her website www.noushabehbahanian.com in the resources section:
The Fourth Instinct: The Call of the Soul by Arianna Huffington
Crush It! Why NOW is the Time to Cash In on Your Passion by Gary Vaynerchuk
Thrive: The Third Metric to Redefining Success and Creating a Life of Well-Being by Arianna Huffington
#AskGaryVee – One Entrepreneur's Take on Leadership, Social Media and Self-Awareness by Gary Vaynerchuk
Dr. Wayne Dyer Interviews Esther Hicks – Co-Creating At It's Best – A Conversation Between Master Teachers
This series is designed to inspire, educate and encourage you or someone you know to live a more vibrant, fulfilling life.
Nousha is excited to be on this journey with you. The truth is you can design and create, a life you love regardless of your circumstances. If you or anyone you know is struggling with how to live a more vibrant, fulfilling life connect them to our podcast, it's easy. Simply subscribe to our podcast and this way each episode will appear in your show feed ready for you to enjoy and share with your friends, family and community.
Follow Nousha on social media @noushaslegacy on Instagram and Nousha Behbahanian on Facebook.  You are invited to join Our Vibrant Living Community on Facebook.  You can also learn more by visiting: www.noushabehbahanian.com.