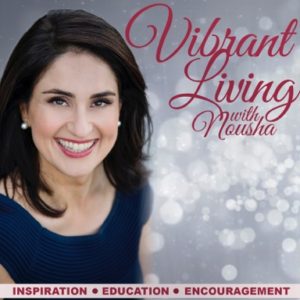 "We're in each other's life for a reason. Thanks for showing up." ~ Unknown To all the new friends and followers I've connected with in 2017 and all the friends from years past; thank you for being in my life and part of my journey this year using technology in fun and creative ways to touch the lives of people around the world to elevate health, one conversation at a time.
Thank you for listening, thank you for sharing, thank you for commenting privately and publicly, thank you for your feedback, support and love in 2017!
It's been pure joy to produce and host a new episode of Vibrant Living with Nousha weekly this year and today I invite you to join me now for this last episode of 2017 to celebrate the past (regardless of the kind of year you had there are always tiny victories to acknowledge), celebrate the present and celebrate the future we're living into.
I'll share a way to reflect on the past that is empowering (especially when we did not achieve those goals we set out to achieve) that I learned from one of my mentors, John C. Maxwell.
Plus, we will celebrate the future as I share what 2018's universal 11/2 year means for us as a collective consciousness, the characteristics of these vibrations and what we can expect to experience as we navigate this auspicious energy.
Excited to connect, share and celebrate! Join me now for our last conversation of 2017!
You can elevate your quality of life and in the process inspire others to do the same, tune in now and join the celebration.
If you know someone that can benefit from this episode, invest a moment and share it; the ripple effect you create is immeasurable.
This series is designed to inspire, educate and encourage you or someone you know to live a more vibrant, fulfilling life.
Nousha is excited to be on this journey with you. The truth is you can design and create, a life you love regardless of your circumstances. If you or anyone you know is struggling with how to live a more vibrant, fulfilling life connect them to our podcast, it's easy. Simply subscribe to our podcast and this way each episode will appear in your show feed ready for you to enjoy and share with your friends, family and community.
Follow Nousha on social media @noushaslegacy on Instagram and Nousha Behbahanian on Facebook.  You are invited to join Our Vibrant Living Community on Facebook.  You can also learn more by visiting: www.noushabehbahanian.com.