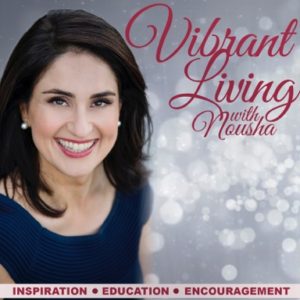 In today's episode Nousha Behbahanian, Vibrant Lifestyle Mentor, answers an important question from one of our viewers from Los Angeles, California in the United States who asks: "Do I have to adjust/balance my nutrition and vitamin intake when I have high activity/fast metabolism days where I work out intensely and engage with nature followed by long but slow/no activity days spent in the office?
This question is timely given the full lives we all lead and even more timely as we enter the often hectic holiday season. It feels so good to be fuelled with energy and vitality daily; all systems are humming along, a clear mind, a strong body and a peaceful spirit. How can we maintain this despite long stressful days at the office or intense workouts? Tune in now to hear 3 Guidelines to follow so you can keep your body, mind and spirit fuelled and functioning optimally, regardless of the kind of day you are having.
May this episode support you (or someone you know) to enjoy optimal physical health which will also have a positive impact on your mental and emotional well being.
You and your loved ones deserve to be happy and enjoy optimum health, on all levels (physical, emotional, mental, financial and spiritual), for many years to come so you can continue to create a life you love! Tune in now to join this important conversation, that often goes unexamined in our day to day lives.
This series is designed to inspire, educate and encourage you or someone you know to live a more vibrant, fulfilling life.
Nousha is excited to be on this journey with you. The truth is you can design and create, a life you love regardless of your circumstances. If you or anyone you know is struggling with how to live a more vibrant, fulfilling life connect them to our podcast, it's easy. Simply subscribe to our podcast and this way each episode will appear in your show feed ready for you to enjoy and share with your friends, family and community.
Follow Nousha on social media @noushaslegacy on Instagram and Nousha Behbahanian on Facebook.  You are invited to join Our Vibrant Living Community on Facebook.  You can also learn more by visiting: www.noushabehbahanian.com.