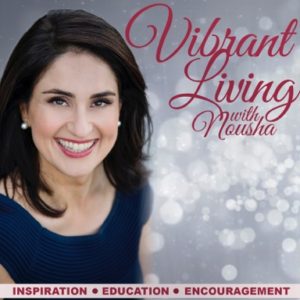 Join us today as Nousha Behbahanian, Vibrant Lifestyle Mentor, interviews Dr. Heather Tick, an innovator in integrative pain medicine whose been solving complex pain problems for over 30 years, supporting tens of thousands of people to manage their pain, take back their lives and thrive. She shares her personal story living with pain, what she learned elevating her own health and offers resources to guide you (or someone you know) living in pain, to learn about holistic pain relief.
Although Dr. Heather Tick is trained in traditional medicine her area of speciality is non-pharmalogic treatments focusing on preventative, dietary, lifestyle approaches to pain management. To further support those in pain she is a multi-book author including the highly acclaimed: "Holistic Pain Relief: An In Depth Guide To Managing Chronic Pain" which has gained the recognition of her peers such as Dr. Christian Northrup: "For the multitudes who suffer – needlessly – from pain, you will find solutions here."
In addition, Dr.Tick currently serves at the forefront of research and teaching as a Clinical Associate Professor at the University of Washington in the department of Family Medicine and Anesthesia and Pain Medicine. Simply put, Dr. Tick empowers her patients to live free of pain and full of life.
Dr. Tick is generously offering us resources to further elevate our wellbeing; to receive her free Chronic Pain Management Checklist designed especially for the viewers of the Vibrant Living with Nousha Podcast and YouTube Channel, visit www.noushabehbahanian.com under the Resources tab, under Vibrant Community Service Partners. Plus, you can register for her free webinar – Ask Dr. Tick – where you have the opportunity to ask her your health-related questions directly. It's the perfect chance for you to get the answers you need to start focusing on healing and managing your pain in a more holistic way.
You can elevate your quality of life and in the process inspire others to do the same, tune in now and join this important conversation.
If you know someone that can benefit from this episode, invest a moment and share it; the ripple effect you create is immeasurable.
This series is designed to inspire, educate and encourage you or someone you know to live a more vibrant, fulfilling life.
Nousha is excited to be on this journey with you. The truth is you can design and create, a life you love regardless of your circumstances. If you or anyone you know is struggling with how to live a more vibrant, fulfilling life connect them to our podcast, it's easy. Simply subscribe to our podcast and this way each episode will appear in your show feed ready for you to enjoy and share with your friends, family and community.
Follow Nousha on social media @noushaslegacy on Instagram and Nousha Behbahanian on Facebook.  You are invited to join Our Vibrant Living Community on Facebook.  You can also learn more by visiting: www.noushabehbahanian.com.