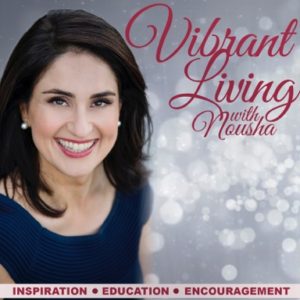 Join us today as Nousha Behbahanian, Vibrant Lifestyle Mentor, interviews Kind Dulai-Gill, a mother of three beautiful children; she's a CPA and Former CEO of a private company responsible for 3,000 people nationally in the United Kingdom. Her story is unique and inspiring going from being a Superwoman to a Grounded Fulfilled Mother.
Today she is the Owner and CEO of Spark Expansion, an organization that sparks permanent transformational change in individuals, families and companies from the inside out. Understanding something through your head intellectually is one thing, but KNOWING and EMBODYING what's inside us, in every cell of our body is another.
Just as you would not say: "I have two arms" because you know you do, similarly you don't need to use "I am" affirmations to affirm who you are. You KNOW if you feel enough or not. You KNOW if you trust or not. You KNOW if you are the creator of your life or not. Period. When you have an internal knowing, this is when true, permanent transformation arises within. With this, you don't have a need to speak about it, because you feel no lack.
Our guest seemingly had it all on the outside; the gorgeous house, the beautiful car, married with three beautiful children, a CEO of a private company responsible for 3,000 people nationally in the United Kingdom. She was seen as the proverbial "Superwoman", and yet inside she carried a different story, she felt alone, empty, as well as mentally and emotionally drained, questioning what life was truly about.
Join our conversation now as our special guest shares how she transformed herself from the inside out and embarked upon a new journey of "success", one of feeling whole and fulfilled.
Today, she joyfully assists those who wish to permanently transform and liberate themselves from their own mental chatters and fear into greater fulfillment and embodiment of peace within.
Kind Dulai-Gill is generously offering us resources to further elevate our wellbeing, that of our family and our community; to receive her free ebooks: "How To Have A Happy, Loving, Peaceful Family Life" and "How Every Leader Can Thrive Beyond Belief With These Principles" plus a 30min private phone consult with Kindi and a 10% discount on your first Dalian Method session visit www.noushabehbahanian.com under the Resources tab, under Vibrant Community Service Partners.
You can elevate your quality of life and in the process inspire others to do the same, tune in now and join this important conversation.
If you know someone that can benefit from this episode, invest a moment and share it; the ripple effect you create is immeasurable.
This series is designed to inspire, educate and encourage you or someone you know to live a more vibrant, fulfilling life.
Nousha is excited to be on this journey with you. The truth is you can design and create, a life you love regardless of your circumstances. If you or anyone you know is struggling with how to live a more vibrant, fulfilling life connect them to our podcast, it's easy. Simply subscribe to our podcast and this way each episode will appear in your show feed ready for you to enjoy and share with your friends, family and community.
Follow Nousha on social media @noushaslegacy on Instagram and Nousha Behbahanian on Facebook.  You are invited to join Our Vibrant Living Community on Facebook.  You can also learn more by visiting: www.noushabehbahanian.com.