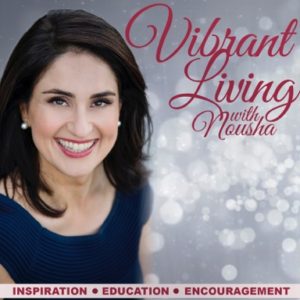 Join us today as Nousha Behbahanian, Vibrant Lifestyle Mentor shares her story of discovering the ultimate resource, why now is the best time to be alive and 3 steps you (or someone you know) can take to leverage it.
Anthony Robbins shares: "The ultimate resource is resourcefulness". I agree and share a different perspective based on my personal journey.
This episode is super important for us all as we see industries disappearing overnight (such as Blockbusters). How can we protect our financial well being despite living in the midst of uncertainty, sudden changes in the economy and inflation?
Learn how to create your own economy, become recession proof, be able to get ahead of inflation and elevate your financial health and that of your family's for generations to come.
You can elevate your quality of life and in the process inspire others to do the same, tune in now and join this important conversation.
If you know someone that can benefit from this episode, invest a moment and share it; the ripple effect you create is immeasurable.
This series is designed to inspire, educate and encourage you or someone you know to live a more vibrant, fulfilling life.
Nousha is excited to be on this journey with you. The truth is you can design and create, a life you love regardless of your circumstances. If you or anyone you know is struggling with how to live a more vibrant, fulfilling life connect them to our podcast, it's easy. Simply subscribe to our podcast and this way each episode will appear in your show feed ready for you to enjoy and share with your friends, family and community.
Follow Nousha on social media @noushaslegacy on Instagram and Nousha Behbahanian on Facebook.  You are invited to join Our Vibrant Living Community on Facebook.  You can also learn more by visiting: www.noushabehbahanian.com.