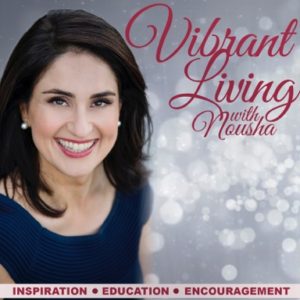 Join us today and hear the inspiring story of a courageous, persistent and devoted woman who went from suffering from depression and being on anti-depressants to today living a vibrant, fulfilling life being an inspiring example of what is possible for us all, regardless of our circumstances.
Anxiety and depression are more often than not, rooted in emotional and mental traumas in childhood that are "frozen" in our cellular memory. Join our conversation now to learn about a method that can support you to get in touch with these so called "ice cubes", melt them and experience the joy and vibrancy that is your nature, to flow again.
Ali Morrow is passionate about supporting people to heal their past and create space for the healthy, vibrant beings we naturally are. Enjoy 25% off your first visit with Ali by following this link, www.alimorrowenergyhealing.com/rsvp/.
Visit www.noushabehbahanian.com under the Resources tab and Vibrant Community Service Partners to enjoy more tools and resources Ali is generously offering you (or someone you know) to elevate your emotional health.
"If you are depressed you are living in the past. If you are anxious you are living in the future. If you are at peace you are living in the present." ~ Lao Tzu
You can elevate your quality of life and in the process inspire others to do the same, tune in now and join this important conversation.
If you know someone that can benefit from this episode, invest a moment and share it; the ripple effect you create is immeasurable.
This series is designed to inspire, educate and encourage you or someone you know to live a more vibrant, fulfilling life.
Nousha is excited to be on this journey with you. The truth is you can design and create, a life you love regardless of your circumstances. If you or anyone you know is struggling with how to live a more vibrant, fulfilling life connect them to our podcast, it's easy. Simply subscribe to our podcast and this way each episode will appear in your show feed ready for you to enjoy and share with your friends, family and community.
Follow Nousha on social media @noushaslegacy on Instagram and Nousha Behbahanian on Facebook.  You are invited to join Our Vibrant Living Community on Facebook.  You can also learn more by visiting: www.noushabehbahanian.com.