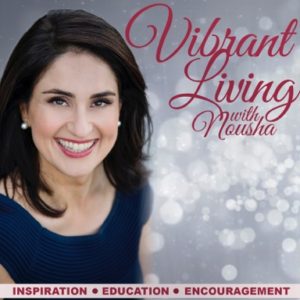 Join us today as Nousha Behbahanian, Vibrant Lifestyle Mentor, interviews Dr. Maryam Zeineddin, who shares her personal story as a professional woman who is married, raising two young girls and experiencing less than optimal health; what she learned to elevate her own health and that today she incorporates in her family practice. Plus be aware of the movement she is creating to promote and support preventative health initiatives in Canada and across the globe.
"An ounce of prevention is worth a pound of cure." Benjamin Franklin
As a family doctor for more than ten years, with a thriving practice, Dr. Maryam Zeineddin did all she could to help patients confront and solve their personal health concerns. Yet somehow, it felt like it wasn't enough. She began to realize that at the end of her long days at the office, often seeing more than 30 patients each day, something didn't feel right. She was diagnosing more patients with devastating cancers, and seeing more patients with anxiety and depression at all ages. This inspired her to refocus her approach to find preventative care opportunities in almost every patient visit, but it has not been easy within our current health care system. But the beauty of family practice is that there is continuity of care with patients; and over time, family physicians can accumulate a wealth of information, providing their patients are open to this exploration.
"With Zili, we can take charge of our health as a unified community; and affect sustainable change in the way our system works." ~ Dr. Maryam Zeineddin
Join our conversation to learn about Dr. Maryam Zeineddin's own challenging health journey as a health professional and the movement she is now creating to promote and support preventative health initiatives in Canada and across the globe.
To learn more about Dr. Zeineddin's cause visit www.noushabehbahanian.com under the Resources tab, under Vibrant Community Service Partners.
Dr. Maryam Zeineddin was born in Tehran, Iran and lived in Athens, London and Stockholm prior to moving to Vancouver. She attended UBC and completed her B.Sc. in honours physiology. Her passion for medicine led to volunteering in Honduras with the Canadian Development Agency at a children's hospital. This experience became one of the deciding factors for Dr. Zeineddin to become a physician. During her medical school years at UBC, she took advantage of travelling, volunteering and playing intramural sports such as ice hockey.
Dr. Zeineddin completed two years of family practice residency at the St. Paul's UBC program, and started her family practice the day after the completion of her residency program. Together with her friend and classmate Dr. Nicole Barre, she built and currently manages Ambleside Medical Centre (AMC) with fantastic doctors and staff. Their mission at AMC is to provide the most comprehensive patient-centered care, with preventative health measures as the key element of healthy living. Dr. Zeineddin has a full practice with interest in all facets of family practice, including preventative health and lifestyle counselling. She is an avid teacher and clinical instructor for UBC family practice residency programs, has been faculty for the UBC Coastal program, and continues to present and teach to medical students and residents of UBC.
She is in love and married to a local West Vancouver dentist and, together with their two children, they enjoy skiing, biking, playing tennis and socializing with friends and family. Dr Zeineddin's new obsession is road biking and improving her Gran Fondo time, and enjoying every moment of doubles tennis. Her new formula for healthy living is to exercise in the early mornings, then journal her gratitude with a nice cup of coffee before her children get up. Her goal is to become more "zen and mindful", and savour life's moments.
You can elevate your quality of life and in the process inspire others to do the same, tune in now and join this important conversation.
If you know someone that can benefit from this episode, invest a moment and share it; the ripple effect you create is immeasurable.
This series is designed to inspire, educate and encourage you or someone you know to live a more vibrant, fulfilling life.
Nousha is excited to be on this journey with you. The truth is you can design and create, a life you love regardless of your circumstances. If you or anyone you know is struggling with how to live a more vibrant, fulfilling life connect them to our podcast, it's easy. Simply subscribe to our podcast and this way each episode will appear in your show feed ready for you to enjoy and share with your friends, family and community.
Follow Nousha on social media @noushaslegacy on Instagram and Nousha Behbahanian on Facebook.  You are invited to join Our Vibrant Living Community on Facebook.  You can also learn more by visiting: www.noushabehbahanian.com.