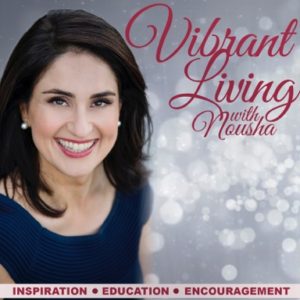 In today's episode Nousha Behbahanian, Vibrant Lifestyle Mentor, answers a very important question from one of our viewers from Canada who asks: How do I separate instinct from fear when making a decision?
This is a really important question because as we know fear is part of the experience of being human and needs to be moved through yet we can get caught in trying to distinguish fear from instinct.
How do you know the difference between when you are out of your comfort zone (which often brings up LOTS of fear) and when your instinct is telling you NOT to do something?
If you're confused, don't worry. In this episode you will learn four no-fail strategies to get your answer. These simple practices will help you cultivate the ability to make the 'right choice' for you, every time. Join the conversation now!
You and your loved ones deserve to be happy and enjoy optimum health for many years to come so you can continue to create a life you love! Tune in now to join this important conversation that often goes unexamined in our day to day lives.
This series is designed to inspire, educate and encourage you or someone you know to live a more vibrant, fulfilling life.
Nousha is excited to be on this journey with you. The truth is you can design and create, a life you love regardless of your circumstances. If you or anyone you know is struggling with how to live a more vibrant, fulfilling life connect them to our podcast, it's easy. Simply subscribe to our podcast and this way each episode will appear in your show feed ready for you to enjoy and share with your friends, family and community.
Follow Nousha on social media @noushaslegacy on Instagram and Nousha Behbahanian on Facebook.  You are invited to join Our Vibrant Living Community on Facebook.  You can also learn more by visiting: www.noushabehbahanian.com.