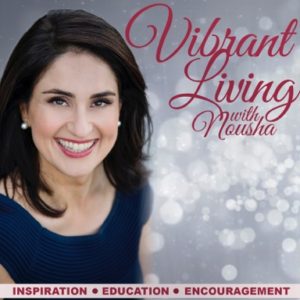 Join us today as Nousha Behbahanian, Vibrant Lifestyle Mentor, interviews Dr. Ibby Omole who holds a Masters in Acupuncture, a Masters in Environmental Studies and a Doctorate in Naturopathic Medicine. She is super smart yet able to distill all her science based knowledge into practical advice you can use immediately to elevate your health.
Learn the benefits of seeing a naturopathic doctor, the six principles that guide naturopathic medicine (distinctly different from traditional medicine) and receive 5 Tips for Supporting Your Vibrant Health for many years to come.
Aside from a daily dose of fresh air, sunshine and eating unprocessed foods there are other critical elements to incorporate in our day to day lives to enjoy optimal health according to Dr. Ibby Omole, a Naturopathic Doctor. Tune in now to learn about simple, practical and important ways you can elevate your health for many years to come.
Dr. Ibby also shares that you don't have to buy all your produce organic – she guides us to refer to the "Clean 15" to learn about the fruits and vegetables that are the least contaminated by pesticide use, according to the Environmental Working Group (EWG – www.ewg.org). She goes further to share that this group also shares the "Dirty Dozen" – foods that are recommended we buy organic.
Plus she shares how as a mom of two, who practices Naturopathic Medicine and is also Core Faculty at Boucher Institute of Naturopathic Medicine she is still able to carve time out of her busy schedule to exercise. Plus how she inspires her two boys with meditation, cultivating mindfulness.
As Buddha once shares: "Just as a candle can not burn without fire, men cannot live without a spiritual life." There are many ways to connect to spirit that can nourish our spiritual health that often don't get shared. Tune in now to learn about the many diverse ways we can nourish our soul plus other tips to elevate your health.
Join us now to learn about simple, practical and important ways you can elevate your overall health and that of your family's and maintain optimum health for many years to come.
Dr. Ibby Omole offers low intervention, grass roots methods to empower your long term sustainable health. To connect with Dr. Ibby and receive her complimentary ebook designed especially for the viewers of the Vibrant Living with Nousha Podcast and YouTube Channel visit www.noushabehbahanian.com under the Resources tab, under Vibrant Community Service Partners.
You can elevate your quality of life and in the process inspire others to do the same, tune in now and join this important conversation.
If you know someone that can benefit from this episode, take a moment and share it; the ripple effect you create is immeasurable.
This series is designed to inspire, educate and encourage you or someone you know to live a more vibrant, fulfilling life.
Nousha is excited to be on this journey with you. The truth is you can design and create, a life you love regardless of your circumstances. If you or anyone you know is struggling with how to live a more vibrant, fulfilling life connect them to our podcast, it's easy. Simply subscribe to our podcast and this way each episode will appear in your show feed ready for you to enjoy and share with your friends, family and community.
Follow Nousha on social media @noushaslegacy on Instagram and Nousha Behbahanian on Facebook.  You are invited to join Our Vibrant Living Community on Facebook.  You can also learn more by visiting: www.noushabehbahanian.com.