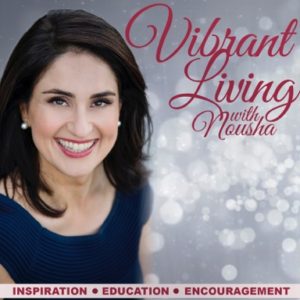 Why are we here? There must be more to it than just going through the motions of life. We have been conditioned to be pulled into the day to day routines of life especially when we start a family and often have very little time to focus on our soul's purpose. Today, give yourself the gift of investing in your spiritual health and learn how to identify the blueprint of your soul's design, the impact of not accommodating the evolution of your soul, the impact of changing your name and more. Tune in now, to get started!
Today, Nousha Behbahanian interviews an expert numerologist, mystic, spiritual teacher and holistic healer, Joseph Ghabi, who shares a perspective about why we are here and provides us with tools and resources to equip you with more awareness and understanding about your life path.
In this episode you will discover what a soul agreement is, what your blueprint destiny is and how to identify the blueprint of your soul's design. Learn about whether we have a choice about whether to live our blueprint destiny and the impact of not accommodating the evolution of your soul. Learn how your childhood experiences are still reflected in your life experiences today and how to put an end to certain recurring patterns and experiences in your life.
Jospeh offers a simple, elegant yet powerful process to discover your soul's design and clear out anything that is not in alignment with your soul's purpose so you can experience more freedom, more love, more joy and fulfilment as you powerfully and confidently design and create a life you love.
You can learn more about Joseph Ghabi's generous offer for the viewers of the Vibrant Living with Nousha Podcast and YouTube Channel by visiting www.noushabehbahanian.com under the Resources tab, under Vibrant Community Service Partners.
Joseph Ghabi is a former engineer, banker and international sales manager. His past is packed with degrees and certifications given only to people of science and logic yet Joseph's true gifts appear in areas less frequented by typical scientists. He is a mystic, spiritual teacher and numerologist and Founder and CEO of The Free Spirit Centre Inc.
Joseph is known worldwide as a healer and a visionary. His unique approach to healing the pain of your past has been perfected from years of working with clients and training holistic practitioners.
Joseph speaks on topics ranging from relationships and the law of attraction to life purpose and past histories. He is well known for his expertise in healing childhood traumas. As a natural medium and a minister of metaphysics, Joseph has chosen to devote his life to working with the healing energy.  He is presently earning a PhD in Metaphysical Counselling.
This series is designed to inspire, educate and encourage you or someone you know to live a more vibrant, fulfilling life.
Nousha is excited to be on this journey with you. The truth is you can design and create, a life you love regardless of your circumstances. If you or anyone you know is struggling with how to live a more vibrant, fulfilling life connect them to our podcast, it's easy. Simply subscribe to our podcast and this way each episode will appear in your show feed ready for you to enjoy and share with your friends, family and community.
Follow Nousha on social media @noushaslegacy on Instagram and Nousha Behbahanian on Facebook.  You are invited to join Our Vibrant Living Community on Facebook.  You can also learn more by visiting: www.noushabehbahanian.com.