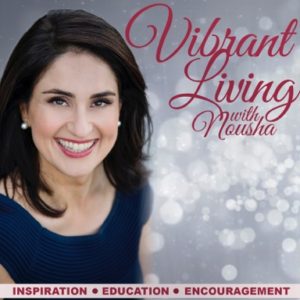 Doubt, it's one of our dream stealers. The truth is, it's human to doubt; however, the impact is we sabotage the possibility of any dream to take hold in the fertile soil of creation. Join us today as Nousha Behbahanian, Vibrant Lifestyle Mentor shares a proven 3 Step Process to dissolve doubt so you can live your best life. Download this episode now to get started!
In this episode Nousha shares her story of how she went from doubting daily and sabotaging her success as an entrepreneur to learning how to dissolve doubt and in the process create a thriving business as a lifestyle entrepreneur. You too can utilize this simple, easy, proven 3 Step Process to dissolve doubt and shift into a state of joy, confidence and freedom. Tune in now to learn how you too can dissolve doubt.
Whether you are an entrepreneur or not or exploring the possibility of becoming an entrepreneur this episode will support you in having more awareness of the nature of doubt and the process one must go through to be able to dissolve it. When we doubt, we create fear and this can keep us stuck in our lives and negatively affect our physical health, our emotional health, our mental health, our spiritual health and our financial health. Over time, being in a constant state of doubt paralyses us and can create dis-ease. There is a way to shift doubt to your advantage to grow into your best self and use it to design and create a life you love.
You deserve to be happy and realize your dreams, tune in now to learn how you can be masterful at dissolving doubt.
This series is designed to inspire, educate and encourage you or someone you know to live a vibrant, fulfilling life.
Nousha is excited to be on this journey with you. The truth is you can design and create, a life you love regardless of your circumstances. If you or anyone you know is struggling with how to live a vibrant, fulfilling life connect them to our podcast, it's easy. Simply subscribe to our podcast and this way each episode will appear in your show feed ready for you to enjoy and share with your friends, family and community.
Follow Nousha on social media @noushaslegacy on Instagram and Nousha Behbahanian on Facebook.  You are invited to join Our Vibrant Living Community on Facebook.  You can also learn more by visiting: www.noushabehbahanian.com.