Elevate Your Emotional Health: The Five Love Languages - A Key To Creating Vibrant Fulfilling Relationships
Welcome to the Vibrant Living with Nousha blog. I'm Nousha, super excited to be on this journey of learning, growth and healing with you. This blog is designed to inspire, educate and encourage you or someone you know to live a more vibrant, fulfilling life.
In the January 2017 blog I share the five pillars of optimum health and how we need to nourish, protect and renew each pillar so they can work harmoniously to create optimum health. Today, I'll dive deeper into the pillar of our emotional health and share about "The Five Love Languages" and how it's a key to creating vibrant, fulfilling relationships this holiday season and in the year ahead. If you are already aware of these love languages, invest a moment and share this gift with someone in your community who can benefit; the ripple effect you create is immeasurable.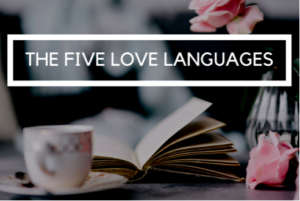 As the saying goes: "All we need is love!"; however, I will never forget the day I was having lunch with a coworker who (at the time) was married. He shared with me and our other coworkers (who joined the conversation) that he and his wife were getting a divorce. This news came as a shock to us all as he was a devoted man and took every opportunity to invest time being with his family despite his very full and stressful work schedule. He himself did not quite understand why as he thought they both loved each other. As a successful man working long hours in the corporate world, he carved time out to be with his wife (enjoying uninterrupted quality time together) several times a week, yet all that really mattered to her was shopping and she absolutely loved it when he bought her things.
Fast forward a few years, he completed his divorce and shared that he now understands part of what happened in his marriage. He shared that he was given an amazing book that shed light on it all called: "The Five Love Languages" by Gary Chapman. As he shared, I leaned forward in my seat (as did our other coworkers) intrigued by his new find. He shared that there are actually five so called "love languages" and it is critical that we understand what they are, determine what language our loved ones speak and to show them love in their language. He shared with us that he finally understood one of the reasons why his wife asked for a divorce, they spoke different love languages and did not know it.
The Five Love Languages: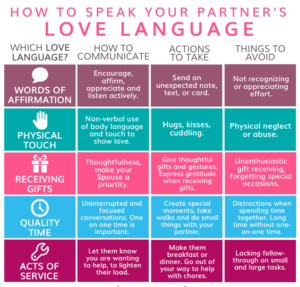 You see, his wife's love language was "Receiving Gifts" and his was "Quality Time". He explained that he now understood why she was so loving and happy when they went shopping and he bought her something. For him, he enjoyed the one on one time with her; however, not understanding each other's love language and a few other things had them end the marriage. Today, he is happily married to a woman who speaks his love language and is aware of all five love languages.
I'm grateful that this friend and coworker shared this valuable resource with me, saving me years of needless heart ache. It's a joy to now share this with you. If you are aware of this resource, invest a moment and share it with your community.
My invitation to you this holiday season (assuming this resource is new to you) is to:
Learn your love language and that of you loved ones.
Be mindful to speak their love language as it is natural to focus on expressing our own love language.
Let those you love know about this resource so you can create vibrant, fulfilling relationships for many years to come.
NOTE: The Five Love Languages can be applied to all your relationships including with your kids, your coworkers, your friends and the various members of your family too.
As you make these shifts in your mindset, and ways of being you can connect to our community of passionate women and men who are creating a beautiful, happy, fulfilling and freedom filled life. You are invited to join our community of like minded people by joining our Facebook group: Our Vibrant Living Community.
I'm excited to be on this journey with you. The truth is you can design and create, a life you love regardless of your circumstances. If you or anyone you know is struggling with how to live a more vibrant, fulfilling life connect them to our blog and/or YouTube Channel, Vibrant Living with Nousha. Simply subscribe to our YouTube Channel and this way each Wednesday, a new show will appear in your show feed ready for you to enjoy and share with your friends, family and community.
Follow Nousha on social media @noushaslegacy on Instagram and Nousha Behbahanian on Facebook.  You are invited to join Our Vibrant Living Community on Facebook.  You can also learn more by visiting: www.noushabehbahanian.com.
Episode VL50 - Elevate Your Emotional Health: The Five Love Languages - A Key To Creating Vibrant Fulfilling Relationships
&nbsp