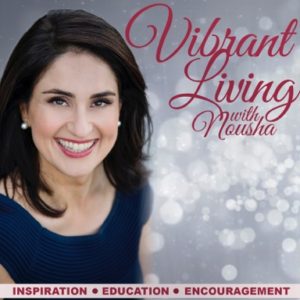 Join us today as Nousha Behbahanian, Vibrant Lifestyle Mentor, interviews Dr. Rick Chehil, a General Practitioner who took the traditional route, studying to become a medical doctor by going to Dalhousie University in Halifax, Nova Scotia, in Canada where he grew up. Although Dr. Chehil's cultural roots are form India he went through the western school system to become a medical doctor. Over the years, his understanding of what true health is has shifted to include more eastern philosophies, going back to his cultural roots. He now incorporates both western and eastern methods to support his patients in enjoying optimal health, wellness and vitality not just physically but emotionally, mentally and spiritually.
"Pain doesn't show up in our lives for no reason; we can look at pain and inquire about what it's teaching us." ~ Dr. Rick Chehil
Dr. Chehil had knee pain from a ski accident, he did not want to resort to using medication and was open to other ways of treating it. He was delighted to learn about a method that addressed his pain, got to the source and elevated his health physically, emotionally, mentally and spiritually.
Today as a General Practitioner, he offers this method in his practice. Join our conversation now and learn about this unique yet powerfully effective method designed to elevate our health and our consciousness.
Dr. Chehil is generously offering the viewers of the Vibrant Living with Nousha Podcast and YouTube Channel, a discount on your first session with him experiencing the Dalian Method, to enjoy this offer visit www.noushabehbahanian.com under the Resources tab, under Vibrant Community Service Partners.
You can elevate your quality of life and in the process inspire others to do the same, tune in now and join this important conversation.
If you know someone that can benefit from this episode, invest a moment and share it; the ripple effect you create is immeasurable.
This series is designed to inspire, educate and encourage you or someone you know to live a more vibrant, fulfilling life.
Nousha is excited to be on this journey with you. The truth is you can design and create, a life you love regardless of your circumstances. If you or anyone you know is struggling with how to live a more vibrant, fulfilling life connect them to our podcast, it's easy. Simply subscribe to our podcast and this way each episode will appear in your show feed ready for you to enjoy and share with your friends, family and community.
Follow Nousha on social media @noushaslegacy on Instagram and Nousha Behbahanian on Facebook.  You are invited to join Our Vibrant Living Community on Facebook.  You can also learn more by visiting: www.noushabehbahanian.com.