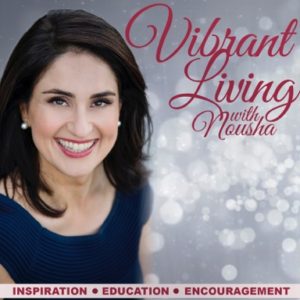 Join us today as Nousha Behbahanian, Vibrant Lifestyle Mentor, interviews Made Eliza Dalian, a modern day mystic and internationally acclaimed master of healing and transformation. She has been on the spiritual path of self-discovery from a very young age (5 years old) and lived in India for 4 years studying with Osho. Mada is Founder of the evolutionary Dalian Method for elevating health and consciousness. She is also a best selling, multi-award winning author of two books: "In Search of The Miraculous: Healing Into Consciousness" and "Healing the Body and Awakening Consciousness with the Dalian Method: An Advanced Self-Healing System for a New Humanity".
We know it's pure bliss to be here now, to live in the present moment; however, we do it with effort and sometimes it's a struggle, it does not just happen with ease and grace. How can we, be here now, present, without effort? How can we just BE HERE NOW (24/7) as a natural expression of BEING without getting pulled into our past or the future. There is, a powerful and elegant way friends.
It is an honour to have met and worked with Mada Eliza Dalian, a mystic and enlightened Zen Master. Enlightenment is a state of perfect knowledge or wisdom, combined with infinite compassion. It is said that out of a thousand beings who become enlightened, only one becomes a master who is capable of individually guiding others out of the complexities of their personal illusions. Mada Eliza Dalian is one such rare being. Carve out the time to join this very important conversation, that impacts us as children, adolescents and later as adults.
If you would like to enjoy peace from within, permanently transform, living the liberated life and gift this to your children and grandchildren, invest the time to join our conversation.
Made Eliza Dalian is generously offering her two books filled with wisdom at a 25% discount to the viewers of the Vibrant Living with Nousha Podcast and YouTube Channel, to enjoy this offer visit www.noushabehbahanian.com under the Resources tab, under Vibrant Community Service Partners.
You can elevate your quality of life and in the process inspire others to do the same, tune in now and join this important conversation.
If you know someone that can benefit from this episode, invest a moment and share it; the ripple effect you create is immeasurable.
This series is designed to inspire, educate and encourage you or someone you know to live a more vibrant, fulfilling life.
Nousha is excited to be on this journey with you. The truth is you can design and create, a life you love regardless of your circumstances. If you or anyone you know is struggling with how to live a more vibrant, fulfilling life connect them to our podcast, it's easy. Simply subscribe to our podcast and this way each episode will appear in your show feed ready for you to enjoy and share with your friends, family and community.
Follow Nousha on social media @noushaslegacy on Instagram and Nousha Behbahanian on Facebook.  You are invited to join Our Vibrant Living Community on Facebook.  You can also learn more by visiting: www.noushabehbahanian.com.