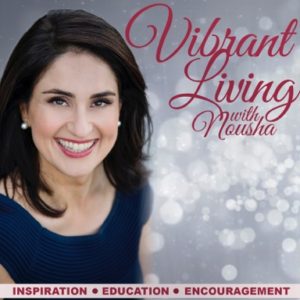 Join us today as Nousha Behbahanian, Vibrant Lifestyle Mentor shows you how to replace worry with wonder and why it is important to make this an ongoing practice in our lives.
If you want to learn 4 Proven Steps to Replacing Worry with Wonder, learn what 1,200 American's over 70 years old had to share about worry, and learn the truth about worry then tune in now! Download this episode now to get started!
It's human to worry, it's part of our DNA. Even the super conscious, enlightened Buddha still worry. Find out what differentiates the way the Buddha worries from the way the majority of our population today worries.
Learn the fascinating findings of Karl Pillamer a Phd, Gerontologist at Cornell University who systematically interviewed hundreds of elderly Americans to collect their lessons for living. He admits being an advice junkie and interviewed 1,200 elderly Americans and asked the question: "What is your biggest regret as you look back on your life?". Listen in to learn his unexpected findings.
Worry poisons the present moment, you loose days, months or even years that you can never recover. So what can you do?
Listen and learn Nousha's 4 Steps to Replace Worry with Wonder and the three books she recommends to further support you with shifting your emotional state from worry to wonder. She also shares what Tony Robbins recommends. As well, the powerful role yoga, meditation and writing in a journal can play. Nousha also shares some questions to ask yourself that have supported her in shifting from worry to wonder. Learn what the elders did to decrease worry and shift into wonder.
Three books Nousha recommends that can be found on her website www.noushabehbahanian.com under the resources section:
1. Ask and It Is Given: Learning to Manifest Your Desires by Esther and Jerry Hicks
2. The Power of Now by Eckhart Tolle
3. The Universe Has Your Back: Transform Feat to Faith by Gabrielle Bernstein
This series is designed to inspire, educate and encourage you or someone you know to live a vibrant, fulfilling life.
Nousha is excited to be on this journey with you. The truth is you can design and create, a life you love regardless of your circumstances. If you or anyone you know is struggling with how to live a vibrant, fulfilling life connect them to our podcast, it's easy. Simply subscribe to our podcast and this way each episode will appear in your show feed ready for you to enjoy and share with your friends, family and community.
Follow Nousha on social media @noushaslegacy on Instagram and Nousha Behbahanian on Facebook.  You are invited to join Our Vibrant Living Community on Facebook.  You can also learn more by visiting: www.noushabehbahanian.com.