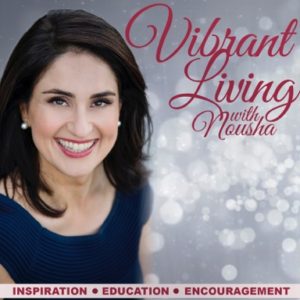 In today's episode Nousha Behbahanian, Vibrant Lifestyle Mentor, answers a very important question from one of our viewers from Canada who asks: "Why is it that law of attraction does not always work?".
This is a very timely question as September of 2017 is a "1" universal month in numerology and 2017 is a "1" universal year. It's an auspicious time for planting seeds; at the same time, it may feel like there are no abundant rewards manifesting. They key is keeping in mind the word, YET.
Having said this, as we plant these "seeds" in September we want to ensure we don't create "weeds" at the same time. As you tune in now, you will learn about "3 Possible Dream Blockers", "The 7 Dream Stealers" and why it's critical to make the unconscious, conscious. This is a very important month in 2017 to ensure your dreams are in the best environment to grow and flourish with ease and grace.
May this episode support you or someone you know to more powerfully trust and manifest your dreams and desires, with ease and grace. If you are a "Master Manifestor" and have an additional perspective to add, do share with our community so together we can elevate health, one conversation at a time.
You and your loved ones deserve to be happy and enjoy optimum health, on all levels (physical, emotional, mental, financial and spiritual), for many years to come so you can continue to create a life you love! Tune in now to join this important conversation, that often goes unexamined in our day to day lives.
This series is designed to inspire, educate and encourage you or someone you know to live a more vibrant, fulfilling life.
Nousha is excited to be on this journey with you. The truth is you can design and create, a life you love regardless of your circumstances. If you or anyone you know is struggling with how to live a more vibrant, fulfilling life connect them to our podcast, it's easy. Simply subscribe to our podcast and this way each episode will appear in your show feed ready for you to enjoy and share with your friends, family and community.
Follow Nousha on social media @noushaslegacy on Instagram and Nousha Behbahanian on Facebook.  You are invited to join Our Vibrant Living Community on Facebook.  You can also learn more by visiting: www.noushabehbahanian.com.