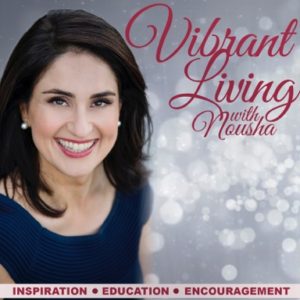 Join Nousha Behbahanian, Vibrant Lifestyle Mentor, as she shares 2 Proven Tips to tame your "Monkey Mind" including how to design a mindful evening, create a mindful morning and the one thing not to do before bed.
Ever wake up and your mind is racing even before you have stepped out of bed? If so, I understand, as I've been there. Your mind is filled with a long list of To Do's, fear, doubt, worries about life and the day ahead and you feel overwhelmed to the point that you just want to stay under the covers in your comfortable bed.
At one point or another this has happened to us all, the problem is you can not force your "Monkey" into submission, you can understand it, tame it and live in harmony with your 'furry companion"; may the tips in this episode serve you to mindfully tame your "Monkey Mind".
You can elevate your quality of life and in the process inspire others to do the same. If you know someone that can benefit from this episode, take a moment and share it; the ripple effect you create is immeasurable.
This series is designed to inspire, educate and encourage you or someone you know to live a more vibrant, fulfilling life.
Nousha is excited to be on this journey with you. The truth is you can design and create, a life you love regardless of your circumstances. If you or anyone you know is struggling with how to live a more vibrant, fulfilling life connect them to our podcast, it's easy. Simply subscribe to our podcast and this way each episode will appear in your show feed ready for you to enjoy and share with your friends, family and community.
Follow Nousha on social media @noushaslegacy on Instagram and Nousha Behbahanian on Facebook.  You are invited to join Our Vibrant Living Community on Facebook.  You can also learn more by visiting: www.noushabehbahanian.com.