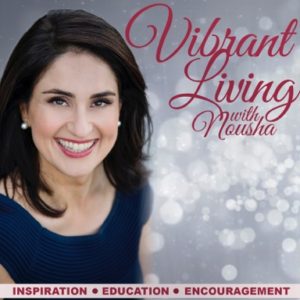 Join Nousha Behbahanian, Lifestyle Entrepreneur, as she shares her journey of "dating" various skin care lines to one fateful day attracting "The One" and living happily ever after; sporting a healthy glow from the inside out and the outside in.
WARNING: This episode is produced especially for men and women who are tired of "dating" skin care lines and are ready for a long term committed relationship and many years of happiness with, "The One".
If you are already using a skin care system you love, awesome; and if not, you will LOVE this episode. Tune in now and learn some of the important guidelines to consider for a successful long term committed relationship with a skin care line you will know and love for many years to come.
If you are interested in the skin care system Nousha now uses you can visit www.noushabehbahanian.com, under the Resources tab, Vibrant Body.
You and your loved ones deserve to be happy and enjoy optimum health for many years to come so you can continue to create a life you love! Tune in now to hear Nousha's story of frustration, disappointment and persistence to finally attracting "The One" and living happily ever after.
You can elevate your quality of life and in the process inspire others to do the same. If you know someone that can benefit from this episode, take a moment and share it; the ripple effect you create is immeasurable.
This series is designed to inspire, educate and encourage you or someone you know to live a more vibrant, fulfilling life.
Nousha is excited to be on this journey with you. The truth is you can design and create, a life you love regardless of your circumstances. If you or anyone you know is struggling with how to live a more vibrant, fulfilling life connect them to our podcast, it's easy. Simply subscribe to our podcast and this way each episode will appear in your show feed ready for you to enjoy and share with your friends, family and community.
Follow Nousha on social media @noushaslegacy on Instagram and Nousha Behbahanian on Facebook.  You are invited to join Our Vibrant Living Community on Facebook.  You can also learn more by visiting: www.noushabehbahanian.com.