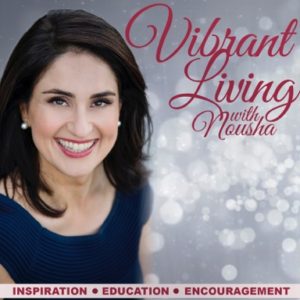 In today's episode Nousha Behbahanian, Vibrant Lifestyle Mentor, answers a very important question from one of our viewers from Canada who shares: "I would like to know more about your point of stillness, that inner peaceful place that we can hold onto when times seem overwhelming."
This is a very timely question as August of 2017 is eclipse season; we have a Lunar Eclipse on Monday, August 7th and a Solar Eclipse on Monday, August 21st. For anyone who is not familiar with eclipses Nousha shares more in this episode.
Being able to access that inner peaceful place is important in our daily lives and especially now during eclipse season in August of 2017 when the energies of Mother Nature call for us to be in a reflective mode and go inside connecting to our inner wisdom.
Although there are many ways to access your inner peaceful place, Nousha shares two of her daily practices; her "On the Fly Practice" that she can use anywhere, anytime and her second practice is a "Home Practice".
These two simple practices can support you or someone you know to connect to that inner peaceful place. If you already have a practice, do share with our community so together we can elevate health, one conversation at a time.
You and your loved ones deserve to be happy and enjoy optimum health for many years to come so you can continue to create a life you love! Tune in now to join this important conversation that often goes unexamined in our day to day lives.
This series is designed to inspire, educate and encourage you or someone you know to live a more vibrant, fulfilling life.
Nousha is excited to be on this journey with you. The truth is you can design and create, a life you love regardless of your circumstances. If you or anyone you know is struggling with how to live a more vibrant, fulfilling life connect them to our podcast, it's easy. Simply subscribe to our podcast and this way each episode will appear in your show feed ready for you to enjoy and share with your friends, family and community.
Follow Nousha on social media @noushaslegacy on Instagram and Nousha Behbahanian on Facebook.  You are invited to join Our Vibrant Living Community on Facebook.  You can also learn more by visiting: www.noushabehbahanian.com.