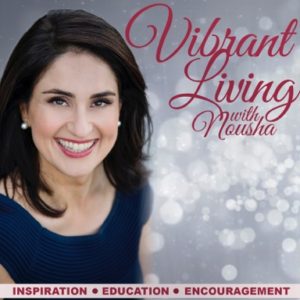 In today's episode Nousha Behbahanian, Vibrant Lifestyle Mentor, interviews Shanti Supernant, a Certified Vedic Astrologer, who sheds light on this 6,000 year old science (Vedic Astrology) also known as the "science of light" and how it impacts each of us. Learn the differences between Western Astrology and Vedic Astrology and how Vedic Astrology provides a map to understand the energies that play out in your life.
As Ralph Waldo Emerson shares: "Astrology is astronomy brought to Earth and applied towards the affairs of men." Western Astrology is 2,000 year old while Vedic Astrology is at least 6,000 years old. Vedic Astrology is an eastern system that comes out of the vedas, the ancient scriptures of India.
The word "Vedic" is derived from the Sanskrit word "Veda" which means knowledge. The Vedas are the oldest scriptures known to exist; the vast ocean of Vedic knowledge encompasses every area of human experience including both material and spiritual knowledge. Studies on a wide range of disciplines such as medicine, politics, agriculture, engineering, sociology, philosophy, natural sciences and astrology are found in the Sanskrit Vedic writings. Vedic Astrology is not only a philosophy which deals with the physical nature of the universe but also one of the most important of the inner or spiritual sciences which deals with the mind and soul.
As a Certified Vedic Astrologer practicing for over 20 years, Shanti Supernant's intention is to bring light to your personal truth and unique journey. She believes that there is no one Truth with a capital 'T'; rather it's about getting to your personal truth and your alignment in this life. Shanti Supernant assists people to align with their personal Truth. Shanti believes that when we are living in our Truth it is fulfilling and in this light you get to fulfill the purpose and journey of your Soul, the reason you came in your body based on the philosophy of ancient India.
You are born with an energy matrix based on the placements of the planets in relation to your specific date of birth, time and location; it's an imprint that we each have and hold for the rest of our lives. Since the belief is that we are a soul having a human experience Vedic Astrology is the science that brings light to our soul's map, it brings light to the journey of our soul in this life. As a result of receiving a Vedic Astrology Life Reading, you can experience more understanding, peace and even joy about your unique journey.
Shanti shares that her approach is not about giving you information rather about bringing light to what you intuitively already have a sense of but can not fully describe, plus she provides you with tools to work with like mantras, gemstones and rituals that can bring support and help during challenging times or when you want to bring something specific into your life.
You can learn about Shanti Supernant's special offer for the viewers of Vibrant Living with Nousha by visiting www.noushabehbahanian.com under the Resources tab, under Vibrant Living Community Service Partners.
Shanti Supernant believes that there are no bad experiences, everything has its value. She sheds light in a way that you can see the forest from the tress as you look at your different life experiences and see the light they provide on your journey.
When we understand our unique journey we are less afraid, less reactive and we have less of a tendency to worry. We feel more accepting of our particular journey. Shanti is offering the viewers of Vibrant Living with Nousha a special discount on a Life Reading which provides an overview of your life in the areas of your finances, your career, your relationships, your health, your spiritual life and your children too. All these things come up in a life reading plus you will get an overview of what is going on now and in the year ahead. This Life Reading is a great start to using this tool to illuminate your life's journey.
If you or someone you know can use some support understanding their unique life's journey and the energies playing out in their life; you can connect with Shanti Supernant and learn more about her generous offer for the viewers of the Vibrant Living with Nousha Podcast and YouTube Channel by visiting www.noushabehbahanian.com under the Resources tab, under Vibrant Community Service Partners.
According to JP Morgan, an American financier and banker who dominated corporate finance and industrial consolidation in late 19th and early 20th Century United States: "Millionaires don't use astrology, billionaires do."
This series is designed to inspire, educate and encourage you or someone you know to live a more vibrant, fulfilling life.
Nousha is excited to be on this journey with you. The truth is you can design and create, a life you love regardless of your circumstances. If you or anyone you know is struggling with how to live a more vibrant, fulfilling life connect them to our podcast, it's easy. Simply subscribe to our podcast and this way each episode will appear in your show feed ready for you to enjoy and share with your friends, family and community.
Follow Nousha on social media @noushaslegacy on Instagram and Nousha Behbahanian on Facebook.  You are invited to join Our Vibrant Living Community on Facebook.  You can also learn more by visiting: www.noushabehbahanian.com.