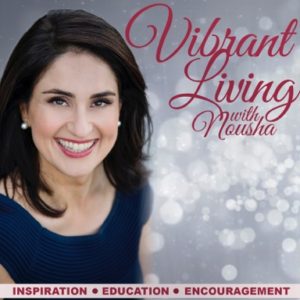 You eat well and aim to incorporate a balanced diet with all the essential nutrients your body needs daily; however, your mental health is not on your radar. Although you experience worry, doubt and fear about your life and the future we are living into, you don't intentionally take steps to elevate your mental health like you do your physical health.
In today's episode Nousha Behbahanian, Vibrant Lifestyle Mentor, answers a question from one of our viewers from Germany who asks: How big do you think is the effect of our mental balance compared to balanced nutrition?
Join the conversation as Nousha dives deeper into the five pillars of optimum health, the impact each one has on the other and what happens to you at a cellular level when one of these pillars is out of balance.
You and your loved ones deserve to be happy and enjoy optimum health for many years to come so you can continue to create a life you love! Tune in now to join this important conversation that often goes unexamined in our day to day lives.
This series is designed to inspire, educate and encourage you or someone you know to live a vibrant, fulfilling life.
Nousha is excited to be on this journey with you. The truth is you can design and create, a life you love regardless of your circumstances. If you or anyone you know is struggling with how to live a vibrant, fulfilling life connect them to our podcast, it's easy. Simply subscribe to our podcast and this way each episode will appear in your show feed ready for you to enjoy and share with your friends, family and community.
Follow Nousha on social media @noushaslegacy on Instagram and Nousha Behbahanian on Facebook.  You are invited to join Our Vibrant Living Community on Facebook.  You can also learn more by visiting: www.noushabehbahanian.com.