Elevate Your Spiritual Health: The Wisdom of Embracing Uncertainty
Welcome to the Vibrant Living with Nousha blog. I'm Nousha, super excited to be on this journey of learning, growth and healing with you. This blog is designed to inspire, educate and encourage you or someone you know to live a more vibrant, fulfilling life.
In the January 2017 blog I share the five pillars of optimum health and how we need to nourish, protect and renew each pillar so they can work harmoniously to create optimum health. Today, I'll dive deeper into the pillar of our spiritual health and examine jut how underrated uncertainty really is and the benefits of embracing uncertainty as a gateway to living a vibrant, fulfilling life.
These days, as we look around, the world is becoming more and more of an uncertain place, nothing is secure and stable except change. What makes this reality tough on society at large is our relationship with uncertainty. Uncertainty. Do you fear it or embrace it? In my experience, I've observed that as human beings we have been programmed to overrate certainty and underrate uncertainty and often fear it.
It is interesting to observe how our past conditioning and programming as human beings (which includes influences from our family upbringing, schooling and society at large) have led us to believe that certainty is good and uncertainty is bad. Knowing an answer is good, sitting in a question is generally bad. It's everywhere we look, as little girls and boys, adult men and women we've been programmed to embrace certainty and fear uncertainty or be uncomfortable with it. Ironically, embracing uncertainty as part of our evolution can be what fulfills us the most.
In my personal experience, when I stepped into the world of being an entrepreneur I learned from many mentors including Darren Hardy that entrepreneurship is a sport where you embrace uncertainty as part of the journey and as part of the win and that my level of success is directly proportional to the level of uncertainty I am willing to live with.
Without some darkness we'd have no real work to do. Uncertainty allows for heroic effort, pioneering action and distinct human achievement. This condition that we tend to dislike, regret, bemoan and even fear may ironically be the thing that allows us to do and become all that we most admire.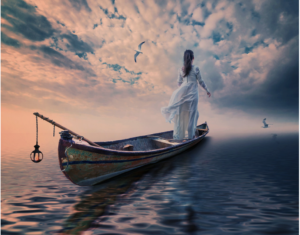 I learned that the quest for certainty gets us into trouble, for we may fear uncertainty and that fear can box us in emotionally, mentally and spiritually. As we embrace uncertainty it can be a gift leading us to practice trust and openness. Trust melts away fear and invites in love, peace and prosperity.
Uncertainty can connect us to faith, in the absence of uncertainty there would be no faith. Uncertainty supports us to engage in the unknown and open ourselves up to our potential.
As I followed the guidance of my mentors I began to see the benefits of embracing uncertainty in my life and learned how ironically it was the fuel that I needed to open myself up to my potential and create a thriving lifestyle business.
Although I received many benefits from embracing uncertainty, here are four that continue to be blessings in my life:
Inspires Me to Grow - Living with uncertainty inspires me to take pioneering action in all areas of my life and become what I've never been. As the saying goes: "To be what you've never been, you must do what you've never done".
Builds My Character - Embracing uncertainty built and continues to strengthen the muscles of trust, openness, courage and persistence within me.
Increases My Tolerance for Risk - Living with uncertainty allows me to increase my tolerance for risk and as my tolerance for risk increases so does my confidence (being able to live with uncertainty) as well as an increase in the abundance of rewards that continue to grace my life.
Provides A Platform For Me To Be A Massive Contribution - Embracing uncertainty is not common and those that do embrace it become hero's and heroine's. All great hero's and heroine's (no exceptions) all lived in the midst of high uncertainty; admired for their courage they are inspiring examples of what is possible for humanity.
Becoming a Lifestyle Entrepreneur was one of the best decisions I've made and as part of this journey I learned that there is a wisdom in embracing uncertainty, it actually satisfies three of our six basic human needs.
According to Tony Robbins our six basic human needs are:
Certainty and Comfort
Uncertainty and Variety
Love and Connection
Significance
Growth
Contribution
As you can see, three of my basic human needs (variety, growth and contribution) were fulfilled as I let go of resisting uncertainty and instead trusting its wisdom and embracing it.
Their is an impact to resisting uncertainty; it negatively affects our health physically, emotionally, mentally, spiritually and financially. Over time, being in a constant state of fear about our life because we have not learned to reprogram ourselves to embrace uncertainty, can create dis-ease. If you are not embracing uncertainty yet, I invite you to begin the process by simply noticing your relationship with uncertainty. Notice it one thought and one day a time making choices to shift your perspective and embrace uncertainty as a gateway for living a vibrant fulfilling life.
Below are four books I found helpful on my journey to designing and creating a vibrant, fulfilling life. For your convenience, you can find them on my website (www.noushabehbahanian.com) in the resources section:
The Seven Spiritual Laws of Success by Deepak Chopra
The Universe Has Your Back: Transform Fear to Faith by Gabrielle Bernstein
Power, Freedom and Grace: Living from the Source of Lasting Happiness by Deepak Chopra
Discover Your Inner Wisdom Using Intuition, Logic and Common Sense To Make Your Best Choices by Char Margolis
As you take the journey to create your vibrant, fulfilling life and make these shifts in your mindset, you are not alone. You can connect to our group of passionate women and men who are creating a beautiful, happy, fulfilling and freedom filled life. Reach out and receive support from our community of like minded people by joining our Facebook group: Our Vibrant Living Community.
I'm excited to be on this journey with you. The truth is you can design and create, a life you love regardless of your circumstances. If you or anyone you know is struggling with how to live a vibrant, fulfilling life connect them to our blog and/or YouTube Channel, Vibrant Living with Nousha. Simply subscribe to our YouTube Channel and this way each Wednesday, a new show will appear in your show feed ready for you to enjoy and share with your friends, family and community.
Follow Nousha on social media @noushaslegacy on Instagram and Nousha Behbahanian on Facebook.  You are invited to join Our Vibrant Living Community on Facebook.  You can also learn more by visiting: www.noushabehbahanian.com.
Episode VL018: Elevate Your Spiritual Health: The Wisdom of Embracing Uncertainty
&nbsp