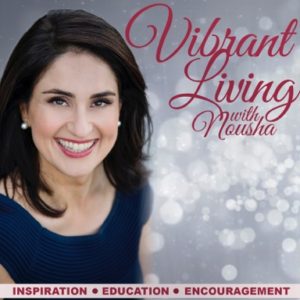 Join us today as Nousha Behbahanian, Vibrant Lifestyle Mentor shares how she turned a challenge into an opportunity to touch more lives. Also learn about the five key elements critical to maintaining optimal health, wellness and vitality for years and years to come. Download this episode now to get started.
This series is designed to inspire, educate and encourage you or someone you know to live a more vibrant, fulfilling life. Hear about Nousha's personal experience enjoying a happy childhood as a little girl filled with energy, vitality and surrounded with love. As life progressed and she became an adult, different life circumstances dimmed her light.
Despite this, Nousha looked for ways she could be vibrant and maintain her bright light from the inside out. Over the years, she picked up tools and resources that she looks forward to sharing with you over the weeks and months to come. You can look for updates at www.noushabehbahanian.com
She shares one particularly difficult life circumstance, her father being diagnosed with MS - Multiple Sclerosis - and being put on drugs for his condition. The doctors Nousha's father was seeing at the time treated him with disease modifying drugs. They are called disease modifying drugs because they slow down the progression of MS and prevent relapses; however, the drugs work by suppressing the immune system so that is does not attack the protective coating (myelin) surrounding the nerves. The most common side effects included: diarrhea, abnormal liver tests, nausea and hair loss. As the years passed, Nousha saw her father's health deteriorate as he started to live too short and die too long, right before her eyes.
She knew in her heart and soul that there was a better way, our destiny is not to live in this way; there must be a way for her father's health to be renewed so he could once again enjoy a vibrant life.
As she shares her story, she is touched, move and inspired by how she transformed this challenge into a gift to go deeper and uncover some truths about what optimum health really means. She discovered that optimum health happens on five levels: physical health, emotional health, mental health, spiritual health and financial health.
We often only focus on our physical and financial health forgetting about our emotional or mental health. In the absence of nourishing, protecting and renewing our emotional and mental health over the long term, our bodies respond with long standing dis-ease, a disease. Degenerative diseases are lifestyle diseases, the field of functional medicine addresses the root causes of disease based on our lifestyle.
In 2013, Nousha decided to create a movement to share what she learned watching her father's health improve and founded Team Living Legacy at www.teamlivinglegacy.com. Too often, we leave life leaving a legacy and Nousha's philosophy is that we are actually living legacies. Everything we think, say and do is making a difference whether we are aware of it or not. Team Living Legacy is a group of passionate, thriving entrepreneurs who are elevating health on our planet one conversation at a time and in the process creating businesses of peace and prosperity creating a world wide epidemic of vibrant living. Join our movement. Join us on Facebook at Our Vibrant Living Community.
Nousha is excited to be on this journey with you. The truth is you can design and create, a life you love regardless of your circumstances. If you or anyone you know is struggling with how to live a more vibrant, fulfilling life connect them to our podcast, it's easy. Simply subscribe to our podcast and this way each episode will appear in your show feed ready for you to enjoy and share with your friends, family and community.
Follow Nousha on social media @noushaslegacy on Instagram and Nousha Behbahanian on Facebook.  You are invited to join Our Vibrant Living Community on Facebook.  You can also learn more by visiting: www.noushabehbahanian.com.