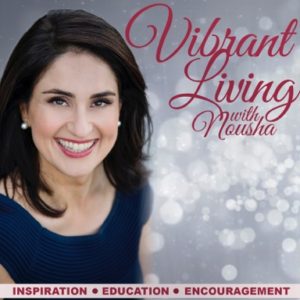 Join us today as Nousha Behbahanian, Vibrant Lifestyle Mentor, interviews "The Spice Mistress", Glynnis Osher. Learn about the 5,000 year old "science of life" or science of lifestyle; the six tastes critical for your vibrant longevity and tips you can use immediately to support you and your family's well being as we transition from summer into fall.
"The first question an Ayurvedic physician asks is not 'What disease does my patient have?' rather 'Who is my patient?'. By the 'who', the physician does not mean your name, but how you are constituted." ~ Deepak Chopra.
Ayurveda is the science of lifestyle; it's a holistic approach to healthcare that helps people to lead a healthy and balanced life. As a sister philosophy to yoga, it elevates health longevity and vibrancy aligning to the cycles of nature and it's precious elements.
One of the principles of Ayurveda is that "everything starts with good digestion". Digestion can be an issue these days and there can be a lot of confusion about what to eat, why we have addictions, cravings, gain excess weight or lose excess weight. We can learn how to practice deeper self care and be our own doctors and healers. It is no longer a "once size fits all" eating plan anymore; tune in now to learn how to determine your unique constitution and align with the foods, herbs and spices that align and serve, the unique you.
Glynnis is a passionate teacher, Ayurvedic practitioner, artist, author, and entrepreneur specializing in the Ayurvedic lifestyle practices of aromatherapy and aromanutrition. As Founder and CEO of the former Mystic Masala Aromatherapy (purchased by Danielle LaPorte in 2015), she partnered with Wild Earth Nepal, a women's fair trade herbal collective creating the most authentic Ayurvedic body care formulas. Her love for natural beauty and the healing foods, spices and plant essences has led her to develop The Spice Life, offering uplifting online learning experiences and products in the sensual healing arts of aromatic Ayurveda.
Glynnis is offering several special gifts to the viewers of Vibrant Living with Nousha Podcast and YouTube Channel including an ebook which provides an overview of the constitutions of the body, a quiz so you can determine yours and aromanutrition to support your constitution. Plus for those of you interested in diving deeper, she is offering two online courses. The first course provides an opportunity to learn about the Essentials of Ayurveda and Aromatherapy and in the second course; The Aromadosha Blueprint you you get to dive even deeper as you experience an innovative, practical and systematic online learning experience on Ayurvedic aromatherapy and aromanutrition. You will receive empowering knowledge of aromatic Ayurveda for your practice, teaching and self-care. You will learn how to detoxify, heal and nourish yourself as you live your most purposeful life. Through video, audio, journals, recipes, exercises, an online community and your very own AromaDosha Kit with essential oils and spices, you will learn a step-by step daily practice customized to your personal and seasonal Ayurvedic blueprint.
Join us now to learn about simple, practical and important ways you can elevate your overall health and that of your family's and enjoy vibrant longevity.
To connect with Glynnis, receive her ebook designed especially for the viewers of the Vibrant Living with Nousha Podcast and YouTube Channel and other special offers visit www.noushabehbahanian.com under the Resources tab, under Vibrant Community Service Partners.
You can elevate your quality of life and in the process inspire others to do the same, tune in now and join this important conversation.
If you know someone that can benefit from this episode, take a moment and share it; the ripple effect you create is immeasurable.
This series is designed to inspire, educate and encourage you or someone you know to live a more vibrant, fulfilling life.
Nousha is excited to be on this journey with you. The truth is you can design and create, a life you love regardless of your circumstances. If you or anyone you know is struggling with how to live a more vibrant, fulfilling life connect them to our podcast, it's easy. Simply subscribe to our podcast and this way each episode will appear in your show feed ready for you to enjoy and share with your friends, family and community.
Follow Nousha on social media @noushaslegacy on Instagram and Nousha Behbahanian on Facebook.  You are invited to join Our Vibrant Living Community on Facebook.  You can also learn more by visiting: www.noushabehbahanian.com.