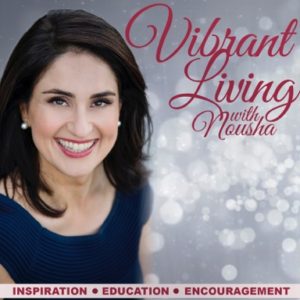 Get the insider's edge, learn three simple world class morning habits we are generally not taught in school or likely at home proven to jump start your day so you can decrease stress, anxiety and reactivity during your day and enjoy a more vibrant fulfilling day! If you want to feel grounded, centered, focused, productive and experience enhanced results and an increase in the quality of your day, then tune in now to learn more!
Banish brain fog, increase your energy, focus, clarity and productivity with three critical world class morning habits proven to prime you to enjoy a Vibrant Fulfilling day, regardless of your circumstances. Plus, learn about some resources to support a Vibrant Body for years to come. Join us today as Nousha Behbahanian, Vibrant Lifestyle Mentor shares how you can jumpstart your day with Vibrant Lifestyle Habits so you can increase the quality of your day! Download this episode now to get started!
The truth is, not everyone is a morning person and even if we are we may not be aware of some powerful habits that can transform the way we experience our day including our life over the long term. Unfortunately we are not taught these habits in school and for the majority of us likely not at home either. However, these habits are key to becoming world-class in our endeavours. The foundation for designing and creating a vibrant fulfilling life includes jumpstarting your day with these habits.
Some of the worlds most brilliant minds, leaders and serial entrepreneurs like Benjamin Franklin, Brian Tracy and Tony Robbins all start their day off with these critical habits. Tune in now to learn more, so you too can enjoy a Vibrant Fulfilling Life!
In this episode Nousha shares what life was like for her before she had these three critical world class morning habits that prime her for greatness and also shares what life is now like after incorporating them into her morning routine and some of the results she got. It was thanks to starting a lifestyle business where she was surrounded by world class mentors like Darren Hardy, Brian Tracy, Eric Worre and Tony Robbins that Nousha learned about these key habits. She is happy to have had the opportunity to learn from these world class mentors so she could truly design a life she loves. Today, she is excited about sharing what she learned with you, so you too can benefit and create a life of joy, love, freedom, ease, happiness and harmony.
Darren Hardy shares in his book, The Compound Effect; that it is not what you do once or twice a year that creates your destiny, it is the habits that you commit to daily over the course of a year (s) that yield the big results. Often when we have not seen the evidence of our efforts we can quite too soon before we have the experience of seeing the compound effect in our lives. Some of us even tend to sabotage our own efforts and don't even establish these important habits; if this is your experience, Nousha shares three books that can support you in better understanding the science of habits so you can unlock your own potential and create a life you love!
The Compound Effect by Darren Hardy is based on the principle that our daily decisions shape our destiny – little everyday decisions will take you either to the life you desire or to disaster by default.
The Power of Habit by Charles Duhigg will support you in getting into the philosophy of why some struggle with adopting habits and change and how others seem to remake themselves overnight. This book looks at the science behind habits, how they work and where they reside in our brains. This book is useful for individuals, businesses and employees alike.
The Healthy Home by Dr. Myron Wentz and Dave Wentz is a unique and much needed look at the state of health of our home where we spend at least 50% or more of our time. The book examines every room in the home uncovering some simple truths to protect your family from hidden household dangers that you may not be aware of that are slowly negatively affecting your health and the health of your loved ones. Some tips, ideas and alternative solutions are shared so you can create a healthy home for you and your loved ones, for many years to come.
Below are three books Nousha recommends in this episode, you can find them on her website www.noushabehbahanian.com in the resources section:
The Compound Effect: Jumpstart your income, you life and your success by Darren Hardy
The Healthy Home by Dr. Myron Wentz and Dave Wentz
The Power of Habit by Charles Duhigg
This series is designed to inspire, educate and encourage you or someone you know to live a more vibrant, fulfilling life.
Nousha is excited to be on this journey with you. The truth is you can design and create, a life you love regardless of your circumstances. If you or anyone you know is struggling with how to live a more vibrant, fulfilling life connect them to our podcast, it's easy. Simply subscribe to our podcast and this way each episode will appear in your show feed ready for you to enjoy and share with your friends, family and community.
Follow Nousha on social media @noushaslegacy on Instagram and Nousha Behbahanian on Facebook.  You are invited to join Our Vibrant Living Community on Facebook.  You can also learn more by visiting: www.noushabehbahanian.com.