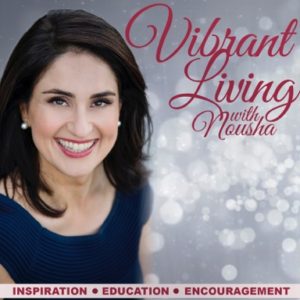 Did you know that we need to eat at least 9-12 servings of fruits and vegetables every day? Not only that, the food we eat should be rich in nutrients. Without that, research has shown that people develop chronic health conditions. More and more studies have linked many of today's most prevalent diseases to nutritional deficiencies.
As a health and wellness enthusiast I've discovered that despite my efforts to get as many fruits, vegetables and legumes in my diet on a daily basis I'm still not getting all the vitamins and minerals my body needs to function optimally. More than ever people are realizing the value of supplementing their diets with nutritional supplements to fill in the gaps of the nutrients they may not be getting. High quality nutritional health products can enhance health and quality of life.
Join us today as Nousha Behbahanian interviews a Doctor of Pharmacy, Dr. Amneet Aulakh, who shares her story of being a non-believer in the use of supplements, until she educated herself. Find out why she use to think that supplements don't work and the three criteria she now guides people to follow when choosing a high quality nutritional supplement. These three tips are simple, easy and will save you time and money as you navigate the abundance of choices on the market today.
Of course, we all aim for whole foods to be our primary source of nutrition; however, the truth is the fruits, vegetables and grains available to us today are lacking many nutrients as they are plucked when unripe, transported to their destination over weeks and months, and may be treated with harmful chemicals.
As a consumer, it is important to be aware of the fact that not all supplements are created equal. Tune in now to listen to Dr. Amneet share three criteria to use when looking at labels and selecting a nutritional supplement for you and your family.
When we are able to enjoy optimum health it supports all the other areas of our lives providing a strong base to design, create and live a life you love. As the saying goes: when we have our health we have many dreams, when we don't we only have one. May this episode equip you and those you love to make wise choices that support your long term health, wellness and vibrancy.
To access the Comparative Guide to Nutritional Supplements by Dr. Lyle McWilliam shared by Dr. Amneet in this episode visit www.noushabehbahanian.com under the Resources tab, Vibrant Mind. This resource will support you and those you love to discover the science behind the nutritional supplement you currently take and how it compares to over 1,600 other nutritional supplements on the market today.
Amneet Aulakh is a Doctor of Pharmacy and a holistic health consultant focused on nutritional products for prevention and health maintenance. She provides health consultations, and offers free health presentations that empower and educate people to take responsibility for their health. You can learn more about Dr. Amneet by visiting www.teamlivinglegacy.com under the Living Legacy Leaders tab. Enjoy a complimentary 20 min consult with Dr. Amneet and receive a True Health Assessment.
This series is designed to inspire, educate and encourage you or someone you know to live a vibrant, fulfilling life.
Nousha is excited to be on this journey with you. The truth is you can design and create, a life you love regardless of your circumstances. If you or anyone you know is struggling with how to live a vibrant, fulfilling life connect them to our podcast, it's easy. Simply subscribe to our podcast and this way each episode will appear in your show feed ready for you to enjoy and share with your friends, family and community.
Follow Nousha on social media @noushaslegacy on Instagram and Nousha Behbahanian on Facebook.  You are invited to join Our Vibrant Living Community on Facebook.  You can also learn more by visiting: www.noushabehbahanian.com.